One thing all current pinball machines have in common is a pair of flippers with which to propel the ball. But it wasn't always so.
The earliest machines were purely mechanical (PM) and had no flippers. The ball was launched by a plunger, and then rolled down by gravity, knocking into various targets or into different troughs or saucers.

Tobacco buyers playing at pinball machine during lunch hour on day of tobacco auctions. Durham, North Carolina, 1939 (Library of Congress)
The next step in the game's evolution was electromechanical machines. While the insides consisted of numerous relays and solenoids, they contained no electronics. They were, in fact, mechanical computers.
Although mechanical flippers appeared on many games during the forties, it was the introduction of the electromechanical flipper that really changed the game. The first machine credited to have used them is Gottlieb's 1947 'Humpty Dumpty'.
Machines had wooden side rails and wooden legs during this era.

Soldiers from Fort Benning in a country store near Phenix City, Alabama, May 1941 (Library of Congress)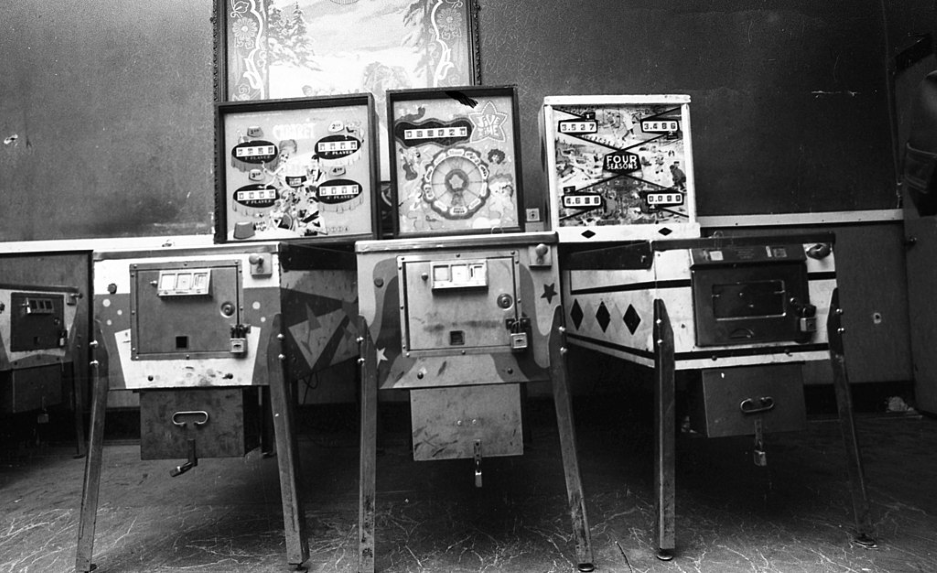 Pinball machines in Hungary, 1973 (FORTEPAN / Urbán Tamás)
At various times, pinball has been subject to moral panics and associated with vice. It wasn't understood to be a game of skill, but was often assumed to be a kind of gambling, and the fact that nearly all manufacturers were based in Chicago, with its reputation for organised crime during the Great Depression, ensured many jurisdictions didn't tolerate machines. New York City Mayor Fiorello LaGuardia said the pinball industry took in millions of dollars a year from the "pockets of school children in the form of nickels and dimes given them as lunch money."
He said pinball machine "pushers" were "slimy crews of tinhorns, well dressed and living in luxury on penny thievery."
He ordered the city's police to make Prohibition-style pinball raids and seizures their "top priority," and was photographed with a sledgehammer, triumphantly smashing the seized machines. On the first day of the ban, the city police confiscated more than 2,000 pinball machines and issued nearly 1,500 summons.
Expert in the history of pinball Seth Porges says there were "off the books" justifications for the banning of pinball in addition to those that were actually used to make it illegal. On the one hand, he says, "they successfully made the case that pinball was a type of gambling," but under the surface was a much more temperance-fuelled, nearly religious belief that pinball was a tool "from the devil," which corrupted youths.
Major American cities banned pinball out of fear of the game's effect on crime, juvenile delinquency and morality. The game stayed prohibited in New York until 1976.
The final evolutionary step was the move to electronics, which occurred in the mid-1970s. These machines are known as Solid State (SS).
The late eighties and early nineties were a time of turmoil and consolidation. Bally was acquired by Williams Electronics in 1988, which in turn closed its pinball division in 1999. Data East quit in 1994. Gottlieb went through several different owners, before becoming defunct in 1996. Stern is currently the only high-volume manufacturer of pinball machines.